Neurodisability is the field of medicine concerning the management of children and young people with disabilities resulting from congenital or acquired long-term conditions. These problems are generally due to impairment in the nervous or musculoskeletal systems and can be static or progressive in nature.
---
Paediatricians working in neurodisability have an emphasis on identifying and managing the complex comorbidities seen in this group, targeting the patients' rehabilitation and enablement, as well as in diagnosis of developmental and neurological conditions and providing support to children, young people and families.

Neurodisability paediatricians work closely with a wide multidisciplinary team, including therapists, other paediatric sub-specialties (such as neurology, genetics, palliative care, respiratory, gastroenterology, orthopaedics and child psychiatry) and multi-agency services (such as education, social care and the voluntary sector).
Neurodisability covers a wider range of clinical aspects and conditions, including acquired brain injury, complex health needs, epilepsy, feeding and nutrition, learning disability, motor disorders (such as cerebral palsy), neuromuscular disorders, social communication disorders, speech and language disorders, sleep difficulties, tone and postural management and visual impairment. Other important aspects are advocacy, safeguarding and wellbeing, liaising with education services, palliative care considerations, recognising psychological and mental health needs and transition to adult services, with an overall focus on promoting the best possible participation and quality of life.
Neurodisability paediatricians often provide specialist regional advice for these complex patients in a model of shared care with local community teams. At tertiary level, neurodisability paediatricians have specialist skills within the neurosciences, such as the assessment of neurobehavioural disorders (e.g., autism spectrum conditions), assessment of motor disorders and tone and postural management, neurorehabilitation and sleep. Some neurodisability paediatricians may subspecialise in one or more of these areas.
There are a number of overlaps with community child health, paediatric neurology, and general paediatrics with a special interest in medical complexity; the following table highlights the difference between some of these specialties: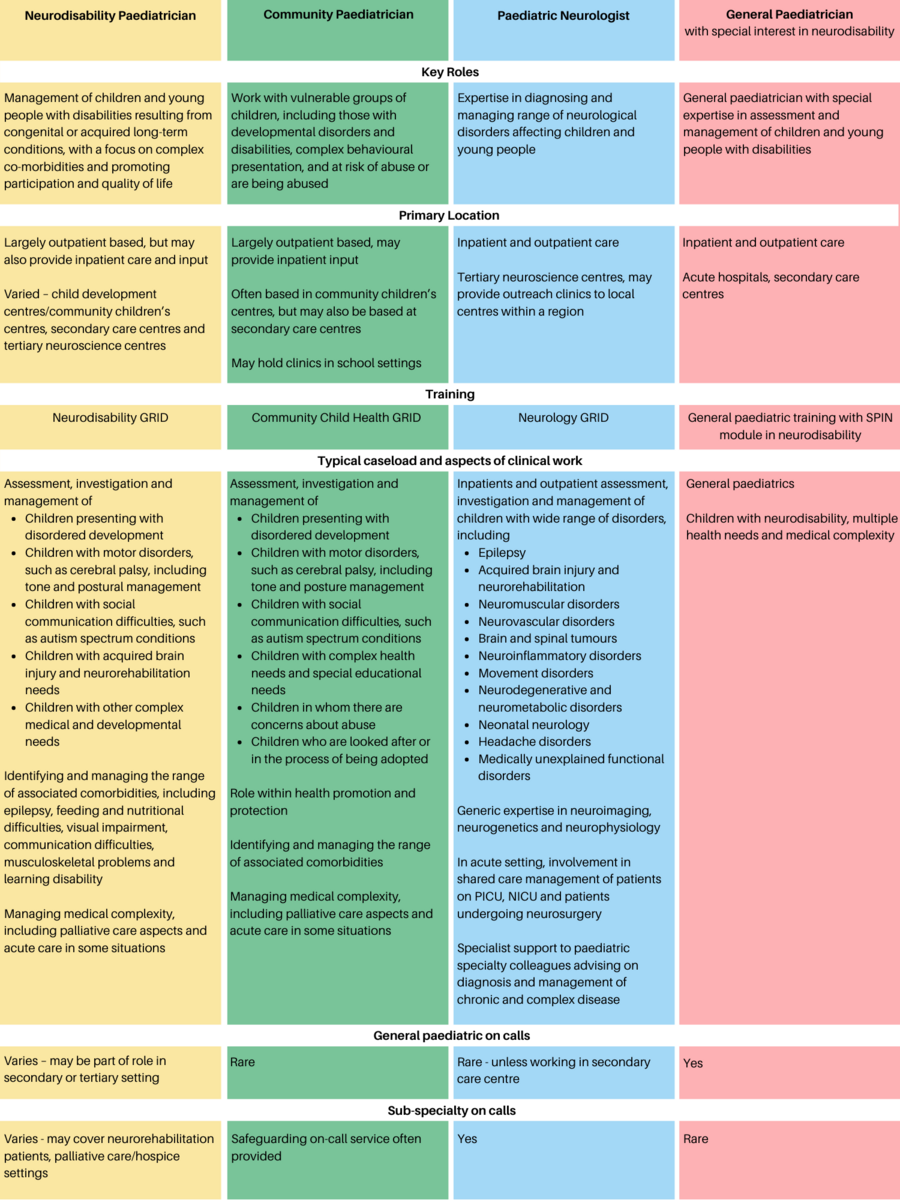 While the above table gives an illustration of the differences between specialties, there is a lot of overlap. It would therefore be possible for a Community Child Health GRID trainee to be recruited in to a post in which most of the work is neurodisability. Similarly, it would be possible for a Neurodisability GRID trainee to be recruited in to a community team.

This also does depend on local set up; some regions have no formal tertiary neurodisability service and management will be led by local community or neurodisability paediatricians with input from other relevant specialist teams, such as neurology; however in other areas a tertiary neurodisability paediatrician may lead on similar aspects in a regional neurosciences centre, often with close working and integration with paediatric neurology teams.
Neurodisability paediatricians may also have a variety of other roles, including an academic focus and clinical research, service development and quality improvement, involvement in education and teaching medical students and trainees, and advocacy work and within organisations, such as BACD.
See Member Stories to find out more about neurodisability as a sub-specialty.