Skip to main content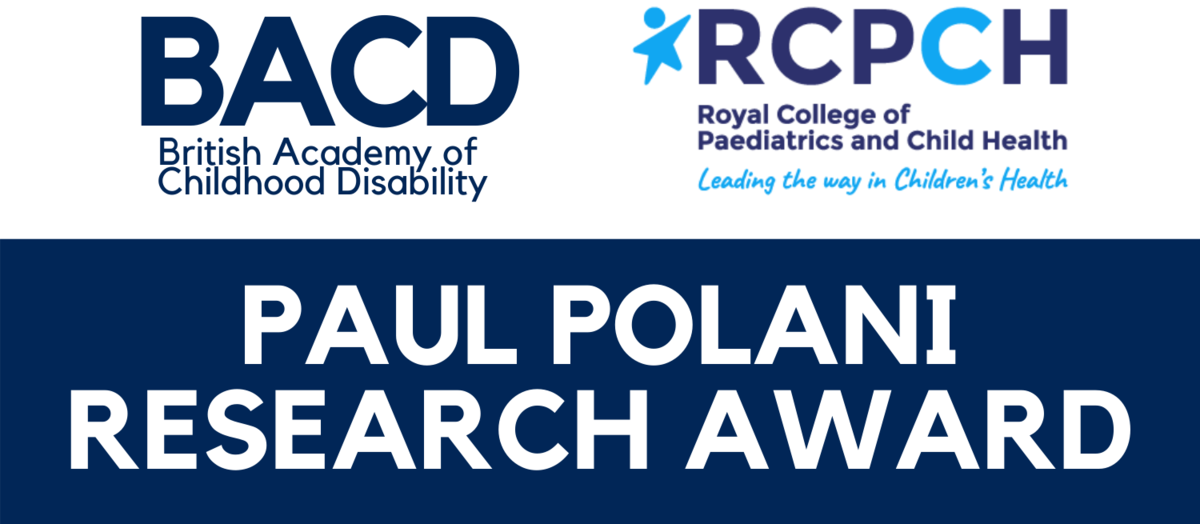 BACD-RCPCH Polani Award 2021
funded by the Royal College of Paediatrics and Child Health
The Royal College of Paediatrics and Child Health (RCPCH) and BACD, through the Paul Polani Fund, supports research and innovation in UK Paediatric Neurodisability. Research to build a robust evidence-base is essential to provide optimal services for Children and Young People with Disabilities and their families.

Up to £15,000 is available in 2021 through the Paul Polani Research Award to enable a team to pilot, undertake, or complete a paediatric neurodisability original research project (please note that applications which only plan to undertake systematic reviews will not be funded).
BACD is a National Institute for Health Research non-commercial Partner. Polani projects that recruit through the NHS might be eligible for NIHR Portfolio project status.
The application deadline has passed. The winning application will be announced at the BACD annual scientific meeting on Thursday 11 March 2021.
---
Past award winners are:
Breathe-Easy: a pilot study to examine the acceptability and feasibility of a novel night-time postural management night-time intervention (PMN-TI) to improve respiratory health of children with complex neuro-disability (2020) Dr Sarah Crombie, Dr Jessica Baskerville, Dr Diane Sellers, Dr Akshat Kapur, Professor Stephen Bremner, Dr Christopher Morris
This award was co-funded by the RCPCH and the Chartered Society of Physiotherapists Charitable Trust (CSPCT).
Non-invasive assessment of anaemia in children with neurodisability attending community paediatric clinics: A feasibility study (2019) Dr Richard Lee-Kelland, Dr Steve Jones, Dr Clare Sheahan, Professor Pete Blair, Dr Jenny Ingram, Dr Fiona Finlay
Modern illness or a thing of the past? Surveillance study of childhood/adolescent Syndenham's chorea in the UK and the Republic of Ireland (2018) Dr Tamsin Newlove-Delgado, Dr Oana Mitrofan, Dr Eva Woodling, Dr Michael Morton, Dr Ming Lim, Andrew Samuel, Nadine Mushet, Prof Stuart Logan
How Much Does it Cost the NHS to Assess a Child for Possible Autism? (2016) Dr Ian Male, Dr William Farr, Emma Gowling, Dr Stephen Bremner, Prof Heather Gage and Aaron Gain

The Eating and Drinking Ability Classification System for cerebral palsy: a study of stability and associations with growth over time (2015) Dr Diane Sellers, Dr Liz Bryant, Alison Hunter, Dr Vivienne Campbell and Sam Weddell
Identification of behavioural risk markers for Challenging Behaviour in very young children with intellectual disabilities (2013) Dr Dawn Adams, Prof. Chris Oliver, Louise Handley, Associate Prof. Doug Simkiss

The use of taping to improve thumb and wrist posture and hand use in infants with non-progressive brain lesions affecting hand function (2012) Dr Anna Basu, Dr Jill Kisler
Creation and validation of a tool for identifying children with functional visual impairments in children with hemiplegia (2011) Dr Melissa Gladstone
Sleep in Children with Severe Cerebral Palsy-Objective Measurement of the Impact of Botulinum Toxin Hip Injections (2010) Dr Charlie Fairhurst, Suzie Turner, Jane Orgill, Claire Lundy, Mat Blackshaw, Dr Paul Gringras
Respiratory function in children with severe motor disorders using night-time postural equipment (2009) Dr Cathy Hill, Dr Kathryn Padoa, Penny Allen, Pam Shults, Dr Romola Bucks
Measuring the efficacy of computer communication intervention for children with cerebral palsy (2008) Dr Jeremy Parr, Katie Price
Establishing the Lifestyle Assessment Questionnaire, a measure of participation (2007) Dr Helen McConachie, EC Jessen and Rob Forsyth

Predicting the development of intelligible speech by children with cerebral palsy: a pilot study (2007) Dr Lindsay Pennington, Dr Mark Pearce, Prof Allan Colver & Dr Mary Gibson